Hive2.1.1部署
上一篇文章:HBase集群部署,我们搭建了HBase集群,今天要我们要部署安装Hive 2.1.1,就让我们开始吧~
先来简单介绍一下Hive
Hive是基于hadoop构建的一套数据仓库分析系统
它提供了丰富SQL查询方式来分析存储在HDFS中的数据
可以将SQL语句转换为Mapreduce任务进行运行
通过自己的SQL去查询分析需要的内容,这套SQL简称Hive SQL
使不熟悉MapReduce的用户很方便地利用SQL语言查询、汇总、分析数据
准备工作
1.Hadoop集群,并开启HDFS
还没有安装Hadoop集群的小伙伴,可以看一下VV的文章:Hadoop高可用(HA)集群部署
2.Hive软件包:apache-hive-2.1.1-bin.tar.gz
3.Mysql connector:mysql-connector-java-5.1.36.jar
4.其他工具:X-shell、WinScp

为了节省大家时间!VV整理好了本篇文章所用的软件包和工具!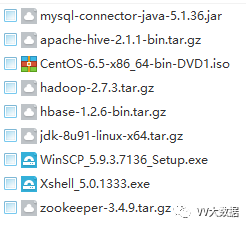 扫描下方二维码,关注公众号
关注后,输入" hadoop "即可获取地址哦~
想要更多大数据学习资料吗?赶快关注吧
回复" 资料 "可获取大数据学习资料,分享到朋友圈更是有额外的课件、资料赠送哦!

一.安装Mysql
默认情况下,Hive元数据存储在默认的Derby 数据库中,只能允许一个会话连接,只适合简单的测试
为了支持多用户多会话,则需要一个独立的元数据库,所以,我们使用MySQL作为元数据库
1.安装mysq
查看本系统是否安装mysql,显示只有一个mysql类库,并没有安装mysql
[root@louisvv01 ~]# rpm -qa|grep mysql
mysql-libs-5.1.73-8.el6_8.x86_64
2.使用yum安装mysql-server
[root@louisvv01 ~]# yum install mysql-server
Installed:
mysql-server.x86_64 0:5.1.73-8.el6_8
3.安装成功后,将mysql设置为开机自启
[root@louisvv01 ~]# chkconfig mysqld on
4.启动mysql
启动mysql成功后,我们根据下方的提示,给root用户设置一个密码,然后登陆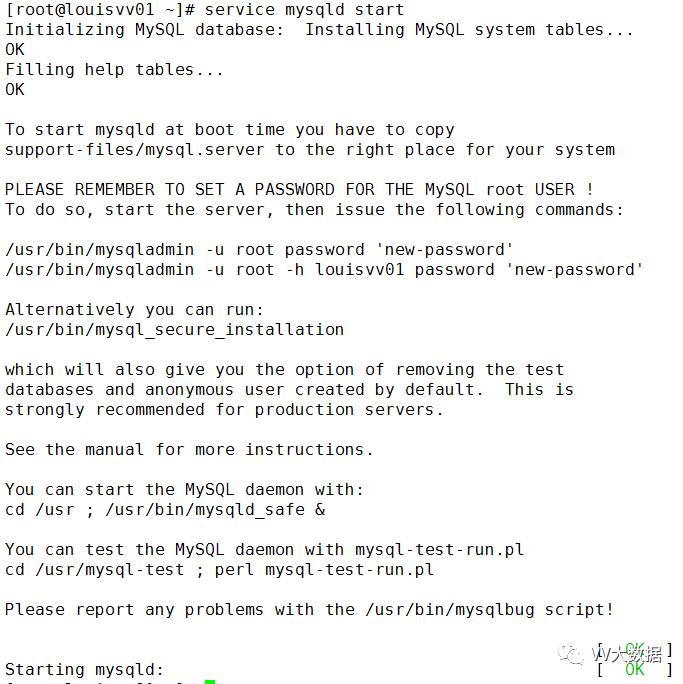 [root@louisvv01 ~]# /usr/bin/mysqladmin -u root password '123'
[root@louisvv01 ~]# mysql -u root -p123
Welcome to the MySQL monitor. Commands end with ; or \g.
Your MySQL connection id is 7
Server version: 5.1.73 Source distribution
Copyright (c) 2000, 2013, Oracle and/or its affiliates. All rights reserved.
Oracle is a registered trademark of Oracle Corporation and/or its
affiliates. Other names may be trademarks of their respective
owners.
Type 'help;' or '\h' for help. Type '\c' to clear the current input statement.
mysql>
mysql远程登录授权
mysql> GRANT ALL PRIVILEGES ON *.* TO 'root'@'%' IDENTIFIED BY '123' WITH GRANT OPTION;
Query OK, 0 rows affected (0.00 sec)
mysql> FLUSH PRIVILEGES;
Query OK, 0 rows affected (0.00 sec)
创建hive数据库,退出
mysql> create database hive;
Query OK, 1 row affected (0.00 sec)
mysql> show databases;
+——————–+
| Database |
+——————–+
| information_schema |
| hive |
| mysql |
| test |
+——————–+
4 rows in set (0.00 sec)
mysql> exit
Bye
二.安装Hive
Hive仅在一台节点上安装即可。
1.使用Winscp软件将Hive软件包apache-hive-2.1.1-bin.tar.gz上传到 louisvv01节点的 /opt目录下
2.解压apache-hive-2.1.1-bin.tar.gz,并重命名
[root@louisvv01 opt]# tar -zxf apache-hive-2.1.1-bin.tar.gz
[root@louisvv01 opt]# mv apache-hive-2.1.1-bin hive-2.1.1
3.配置环境变量
#hive env
export HIVE_HOME=/opt/hive-2.1.1
export PATH=:$PATH::$HIVE_HOME/bin:
[root@louisvv01 hive-2.1.1]# source /etc/profile
4.修改配置文件
[root@louisvv01 opt]# cd /opt/hive-2.1.1/
[root@louisvv01 hive-2.1.1]# cd conf/
将template初始化配置文件,复制一份
[root@louisvv01 conf]# cp hive-env.sh.template hive-env.sh
[root@louisvv01 conf]# cp hive-default.xml.template hive-site.xml
修改hive-env.sh文件,添加如下内容
[root@louisvv01 conf]# vim hive-env.sh
export JAVA_HOME=/opt/jdk1.8.0_91
export HADOOP_HOME=/opt/hadoop-2.7.3
export HIVE_DIR=/opt/hive-2.1.1
export HIVE_CONF_DIR=/opt/hive-2.1.1/conf
修改hive-site.xml文件
删除所有配置项,并添加如下内容:
<configuration>
<property>
<name>javax.jdo.option.ConnectionURL</name>
<value>jdbc:mysql://louisvv01:3306/hive?createDatabaseIfNotExist=true</value>
</property>
<property>
<name>javax.jdo.option.ConnectionDriverName</name>
<value>com.mysql.jdbc.Driver</value>
</property>
<property>
<name>javax.jdo.option.ConnectionUserName</name>
<value>root</value>
</property>
<property>
<name>javax.jdo.option.ConnectionPassword</name>
<value>123</value>
</property>
</configuration>
使用winscp将mysql-java-connector包上传到$HIVE_HOME/lib下
5.启动Hive
Hive2.1.1的启动需要先执行schematool命令进行初始化
[root@louisvv01 hive-2.1.1]# schematool -dbType mysql -initSchema
Metastore connection URL: jdbc:mysql://louisvv01:3306/hive?createDatabaseIfNotExist=true
Metastore Connection Driver : com.mysql.jdbc.Driver
Metastore connection User: root
Starting metastore schema initialization to 2.1.0
Initialization script hive-schema-2.1.0.mysql.sql
Initialization script completed
schemaTool completed
可在mysql中查看hive元数据信息表
mysql> show databases;
+——————–+
| Database |
+——————–+
| information_schema |
| hive |
| mysql |
| test |
+——————–+
4 rows in set (0.01 sec)
mysql> use hive
mysql> show tables;
+—————————+
| Tables_in_hive |
+—————————+
| AUX_TABLE |
| BUCKETING_COLS |
| CDS |
| COLUMNS_V2 |
| COMPACTION_QUEUE |
| COMPLETED_COMPACTIONS |
| COMPLETED_TXN_COMPONENTS |
| DATABASE_PARAMS |
| DBS |
| DB_PRIVS |
| DELEGATION_TOKENS |
| FUNCS |
| FUNC_RU |
| GLOBAL_PRIVS |
| HIVE_LOCKS |
| IDXS |
| INDEX_PARAMS |
| KEY_CONSTRAINTS |
| MASTER_KEYS |
| NEXT_COMPACTION_QUEUE_ID |
| NEXT_LOCK_ID |
| NEXT_TXN_ID |
| NOTIFICATION_LOG |
| NOTIFICATION_SEQUENCE |
| NUCLEUS_TABLES |
| PARTITIONS |
| PARTITION_EVENTS |
| PARTITION_KEYS |
| PARTITION_KEY_VALS |
| PARTITION_PARAMS |
| PART_COL_PRIVS |
| PART_COL_STATS |
| PART_PRIVS |
| ROLES |
| ROLE_MAP |
| SDS |
| SD_PARAMS |
| SEQUENCE_TABLE |
| SERDES |
| SERDE_PARAMS |
| SKEWED_COL_NAMES |
| SKEWED_COL_VALUE_LOC_MAP |
| SKEWED_STRING_LIST |
| SKEWED_STRING_LIST_VALUES |
| SKEWED_VALUES |
| SORT_COLS |
| TABLE_PARAMS |
| TAB_COL_STATS |
| TBLS |
| TBL_COL_PRIVS |
| TBL_PRIVS |
| TXNS |
| TXN_COMPONENTS |
| TYPES |
| TYPE_FIELDS |
| VERSION |
| WRITE_SET |
+—————————+
57 rows in set (0.00 sec)
进入hive shell
[root@louisvv01 hive-2.1.1]# hive
hive>
下面就来测试一下hive好不好用吧
查看数据库
hive> show databases;
OK
default
Time taken: 1.344 seconds, Fetched: 1 row(s)
创建名为test的数据库
hive> create database test;
OK
Time taken: 0.443 seconds
再次查看数据库,刚才创建好的test库已存在
hive> show databases;
OK
default
test
Time taken: 0.062 seconds, Fetched: 2 row(s)
使用test库
hive> use test;
OK
Time taken: 0.072 seconds
创建一张表people(默认为内部表),表中有三个字段,name,age,blog,声明分隔符为 \t
hive> create table people(name String,age bigint,blog String) row format delimited fields terminated by '\t';
OK
Time taken: 0.589 seconds
在louisvv01本地有一个数据文件,内容如下,将改文件上传到HDFS上
[root@louisvv01 ~]# cat test.txt
louisvv 18 www.louisvv.com
why 17 blog.whysdomain.com/blog/
pqt 16 www.qt7mira.com
[root@louisvv01 ~]# hadoop fs -put test.txt /
[root@louisvv01 ~]# hadoop fs -ls /
Found 4 items
drwxr-xr-x – root supergroup 0 2017-12-07 16:59 /hbase
-rw-r–r– 3 root supergroup 83 2017-12-11 15:58 /test.txt
drwx—— – root supergroup 0 2017-12-11 15:42 /tmp
drwxr-xr-x – root supergroup 0 2017-12-11 15:50 /user
下面在hive中加载数据文件
hive> load data inpath '/test.txt' into table people;
Loading data to table test.people
OK
Time taken: 1.405 seconds
查看people表中的信息
hive> select * from people;
OK
louisvv 18 www.louisvv.com
why 17 blog.whysdomain.com/blog/
pqt 16 www.qt7mira.com
Time taken: 2.141 seconds, Fetched: 3 row(s)
到此,我们的Hive搭建成功!

感谢您的支持,记得点赞和关注哦!